The paradox of hunger, food loss and waste is a global issue. All around the world, a third of all produced food never reaches the consumer. Claire van Enk has created Farm to Feed Kenya to bring about change in these issues, while striving for a healthier planet.
Nearly 50 percent of Kenyan vegetables and fruit never make it to the market.  Meanwhile, a third of the population suffers from food insecurity or poor nutrition. As Covid-19 started spreading and restrictions such as lockdowns were implemented, farmers faced major logistical challenges. They struggled to sell their harvest and were stuck with more excess product. Furthermore, the unemployment rate increased, pushing more people into food insecurity. Many Kenyans do not have government-provided safety nets nor the financial savings to survive such a crisis. Many rely on agriculture, as it is 26 percent of the Gross National Produce (GDP). 
To make a difference, Claire van Enk founded Farm to Feed in the midst of the Covid-19 crisis. Van Enk was raised in Kenya and returned after living abroad. She partnered with SNV, Netherlands Development Organization, which assisted Farm to Feed with logistical support.
– Things are born in crisis, people are more willing to help with fundraising. Covid was a catalyser for me to act and connect the farmers with hungry people, she reflects. 
Hunger and malnutrition as a norm
26 percent of the children under age five in Kenya are stunted, meaning that due to chronic malnutrition, they are cognitively and physically impaired. This causes many health challenges later in life. Malnutrition creates a vicious poverty cycle as it affects learning and labor productivity.
– Malnutrition is rampant in Kenya, something transformational has to happen. There is so much food out there, we need to make it more affordable, van Enk explains.
People rely on their daily pay, and in many cases, approximately one third of people in Kenya spend up to 75 percent of their salary to purchase food, as opposed to only 10 % in some countries in Europe. 
– When most of your income goes to buying food, you do not have a lot of flexibility. Making food a bit cheaper is essential for individuals and families to help them get out of poverty, van Enk concludes.
Additionally, poor dietary diversity and low nutrient intake among the low-income households are key contributors to malnutrition. For many children, the school meal is the only meal of the day. Farm to Feed is working towards increasing children's nutrition levels through school feeding programs.
Income for farmers  
Farmers are in a challenging and vulnerable position. If their crops fail, do not meet the market standards, or do not even make it to the market, they are out of income. In contrast, one third of the global food production never reaches customers.  Farm to Feed creates opportunities to sell the harvests that do not meet these requirements, but are still edible for at least two days. They sell the crops at a discounted price for institutions through feeding programs, and donate to vulnerable groups. The farmers will then receive an income for the harvest that would have been thrown to waste, and the people who lack meals, receive nutritious food.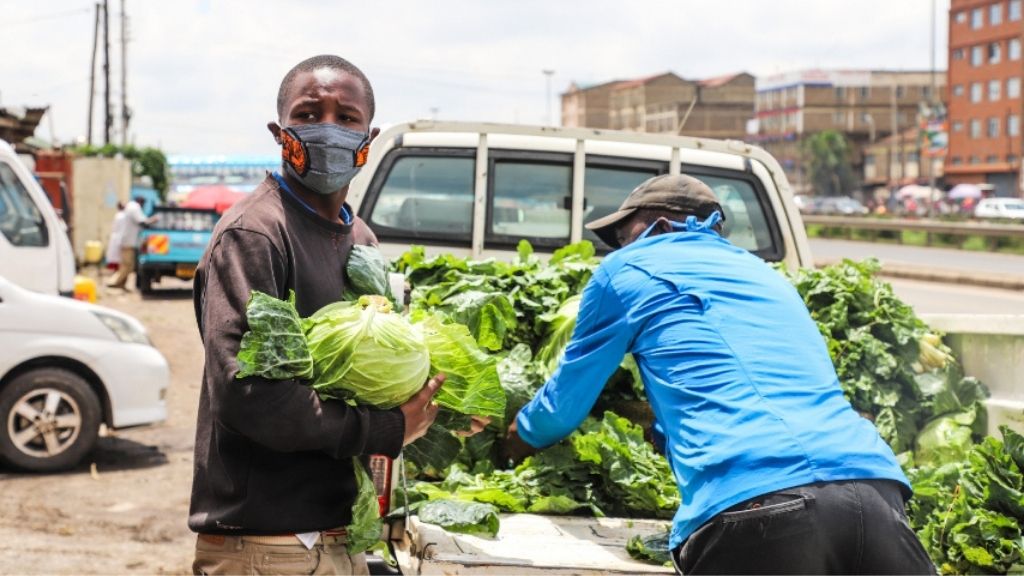 Reducing food waste to fight climate change
Besides providing nutrients to people with food insecurity and income to farmers, Farm to Feed also reduces food waste, which reduces greenhouse gases emissions. Van Enken explains that their work thus has a triple impact. Preventing food loss and waste reduces the loss of valuable resources such as water, energy, land and capital.
 – Eight percent of greenhouse gases come from food loss and food waste. If you really want to make an impact, decreasing your food waste is one of the cheapest ways to combat climate change, she explains. 
Farm to Feed aims to do more in the future, on a larger scale, to help more farmers, people with food insecurity and the climate. They wish to use this model in other locations to have a greater impact, by connecting the post-harvest with the people who need it.
Hunger has grown across the world during the current pandemic. Van Enk reflects that food aid is important and needed. However, providing possibilities for the local farmers to feed people in their own countries is a more sustainable solution. This is one of the ways to target the paradox of food loss and waste, and hunger at the same time.