Ghana is trying to deal sustainably with the increasing amounts of e-waste in the country. In the metal scrapyard in Agbobloshie, Accra, young men dismantle various machineries to obtain scrap parts. The working conditions are dangerous but many workers see the scrapyard as an escape route out of poverty.
It's a sticky and sunny morning in Accra. Black puffs of smoke rise against the blue sky. I drive past the Agbobloshie vegetable market to get to the e-waste scrapyard, one of the most widely known e-waste sites in the world thanks to numerous documentaries and extensive news coverage. I enter into a fairly lighted container in the middle of a Muslim prayer that concludes an operational meeting of various stakeholders working on the ground. 
– We come together every six weeks to discuss the issues we have dealt with and the next steps, explains Richard Afoblikame, technical advisor for the GIZ E-Waste Programme. 
Stakeholders meet often to agree on a common vision for the scrapyard. 
– We don't want to come and introduce technologies that we think work, we want to build on the spirit of what is here and see how to turn it into positive development for everybody's benefit. So we do a lot of big meetings, he tells me.
I'm in the technical training center inaugurated in May 2019 together with a health post and a football pitch as part of the E-Waste Programme, a partnership between Ghana and Germany. The programme started in 2017 with the overall objective to improve the conditions for sustainable management and disposal of electronic waste in Ghana. The country is indeed leading the way, being the first African country to adopt official guidelines to sustainably manage e-waste. 
In this scrap metal yard, various machineries, household equipment, buses, generators, computers and other things are dismantled for scrap and spare parts. The scrap workers are mainly young males, oftentimes from Northern Ghana coming to Accra to make a living. 
– They see the scrapyard as an escape route out of poverty, Richard explains. 
The black smoke mostly comes from burning cables that contain valuable copper and aluminum. These unsafe practices have detrimental effects on the scrap workers' health and on the surrounding environment. Eggs recently sampled near the e-waste scrapyard contain the highest level of dioxins ever measured in eggs. An adult eating one of these eggs would exceed the European Food Safety Authority tolerable daily intake for dioxins 220 times over. 
I ask Richard where this e-waste comes from. 
– We carried out a material flow analysis when we came here and from the results, we see that most of the waste is from Ghanaian households, he says. 
Research partly confirms these findings. The issue of electronic waste has often been framed exclusively in terms of exports from wealthy countries to poor countries to be processed in dangerous health and environmental conditions. But this e-waste flow is only one side of the coin. In 2010, 50 – 85 percent of e-waste in West Africa was domestically generated out of the consumption of new or used electronic equipment of good quality. 
Although there are formal recycling companies, the informal sector plays a central role in the e-waste management in Ghana. Richard explains: 
– They come to your home and then they pay you to dispose of your electronic waste. They pay you to collect spoilt mobile phones, they pay you to collect your spoilt TVs and then they bring it here. 
Shortly after the operational meeting, one of the trainings starts. These trainings do not only focus on technical competency but also on social education, including savings culture and family planning. Today the focus is on the health consequences of unsafe dismantling of e-waste. 
– If you do like that, you'll end up spending everything you have earned on hospitals, the trainer says. 
The trainers are in groups of two or three: the lead trainer is a university graduate, while the co-facilitators are all scrap workers that know the people. The ones attending the trainings are males, mostly young. They agree with their heads. Their work is tough. They easily get wounded, and many of them abuse drugs or painkillers to endure the hardships of their work.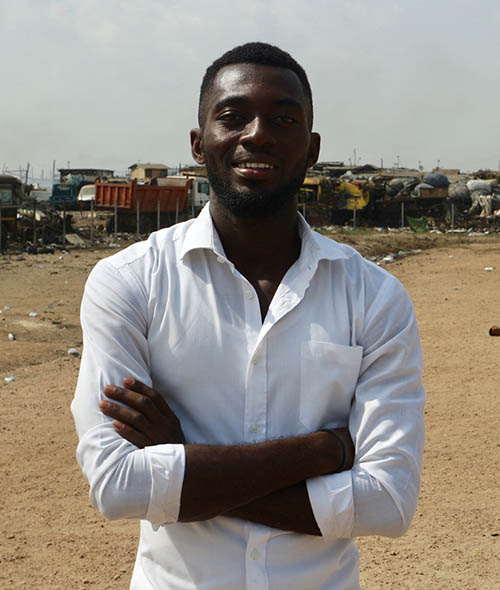 Next to the training center is the football pitch, requested by the surrounding community after the old one got flooded. Emmanuel, previously working for a local NGO operating on the ground, is now responsible for it. His eyes light up when he speaks about the sports ground. 
– I would like to see more women coming here. Do you have any suggestions on how to make it more inclusive? he asks me. 
He would like to prepare a program for the pitch, he has big plans for this place. But he is not the only one with a vision. 
– In five years, I would like to see this place as a business and technology hub, with knowledge sharing on how to recover secondary resources, because I see the world moving towards this now. Most of our primary resources are finished, Richard tells me with a melancholic smile.