Gender stereotypes are hindering women from entering politics in Georgia. Today, only 16 percent of Georgia's members of parliament are women. IDP Women's Movement For Peace (IMEDI) wants to change this by supporting women's political engagements.
The view that women's main role should be as caretakers, mothers or wives, and that they should stay home, is directly hindering women from entering politics in Georgia. Having a full-time job, along with the responsibility to take care of the household and children, leaves no time for political engagement.
– Before elections we visit villages and talk to locals about the benefits of voting for women. The goal is to normalize women in politics and to address stereotypes, Leila Kvaratskhelia, Board member at IMEDI, explains.
Economic problems such as poverty, unemployment, and control over family finances are obstacles for women who wish to enter politics. In the Samegrelo-Zemo Svaneti region region, women are hindered by multiple intersecting factors which often prevent them from reaching their full political potential. IMEDI attempts to address, not just one, but all of these issues offering legal advice, economic support, and psychological help to overcome trauma.
– We see competent women and help them believe in their own ability to be change-leaders. Our organization gives them the knowledge they need to become politically active, Leila Kvaratskhelia tells me.
IMEDI is based in Zugdidi, a city in Georgia's Samegrelo-Zemo Svaneti region, close to the Abkhazian border. The association was founded in 1999. It was one of the first non-governmental organizations (NGOs) working with gender equality, the protection of internally displaced women and girls, and increasing women's role in finding a peaceful resolution to the Georgian-Abkhaz conflict.
As a result of conflict in the early 1990s, the region deals with a number of social and economic issues – especially for internally displaced persons (IDPs). Through IMEDI's training programs IDPs, women, and girls learn how to address issues they encounter in their villages and everyday life.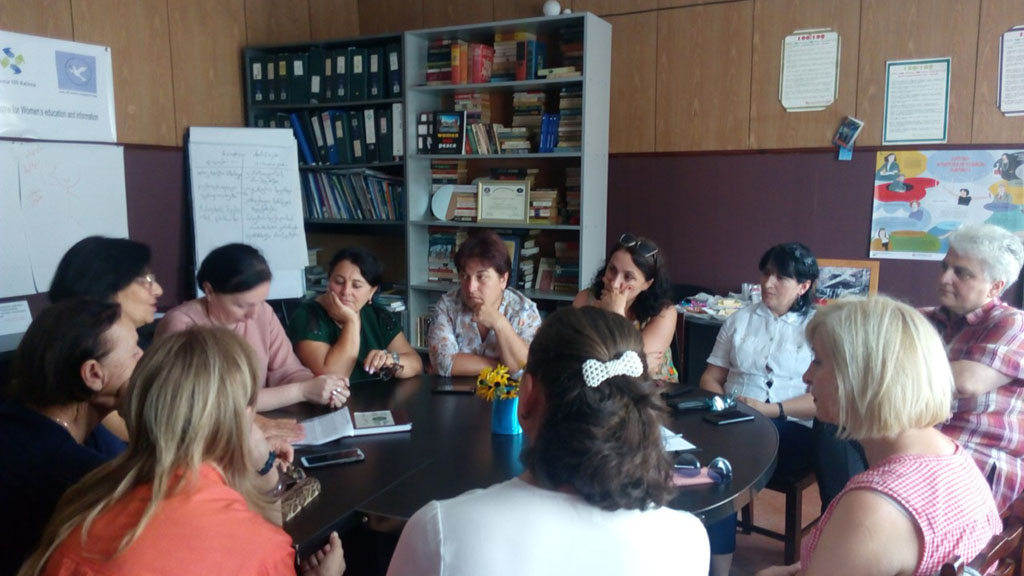 The organization's education program focuses on a wide range of topics pertaining to women's rights and peace building. The program also provides leadership training, confidence-building workshops and advocacy training.
In addition, IMEDI arranges roundtable discussions where the local government, women activists, local women representatives and citizens can meet. The meetings allow women to further raise their voices on socio-economic problems.
– Our program has been successful. Currently, there are seven women in the local parliament of Zugdidi. Two of these women have taken part of our education program before they were elected. Also, in 2017, three women from our project were involved in the planning of the local budget of Zugdidi. As a result, the number of people who have access to different state programs has been raised, Laila Kvaratskhelia says.
Only 16 percent of the members of the national parliament are women in Georgia. According to the UN's Global Goal number five, increasing women's political participation is a global issue and crucial to achieving gender equality. Women make up 50 percent of the population, and them not being politically represented is not only a disadvantage for women but society as a whole.
– Women know what other women need. They are closer to the problem than men, Leila Kvaratskhelia concludes.