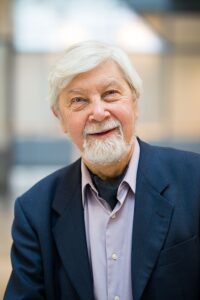 Peter Wallensteen, 77 years.

Professor

in peace and conflict research and former FUF award winner.
When and how did you get involved in FUF?
Since a very long time. I entered FUF through my involvement in building the first academic course in what was then called developing country studies in 1970 and then in peace research in 1971. FUF was immediately an important find a place for discussion of the connection between development and peace.
What issues were you passionate about and thought were important during your time at FUF? What issues do you consider to be the major development issues at that time?
The creation of the FUF was important as part of a spirit of the times where major issues of war, peace and development were in focus. This included questions about the size and design of aid, as well as thoughts about a new economic world order and the creation of regional organizations. FUF was a competent forum for the discussions on the global issues. It was important to think, discuss and research how development/underdevelopment could be connected to war, as well as the effects of war on development/crisis/setback. A hot issue was the issue of violence in the liberation movements.
Do you want to share a memory from your time at FUF?
Many and central meetings, e.g. on agricultural development and the need for land reforms. Topical was i.a. The CADU project in Ethiopia

What do you think is FUF's strength?
To be a forum that spans various specialist areas and a place where long-term strategic discussions can be held in a constructive spirit.
What do you think FUF should focus on going forward?
There is a great need for a forum where peace and development can be vented. Today, attention needs to be given to the importance of climate change. In addition, recent years have made clear the importance of open, tolerant and equal societies to bring about changes that reach all residents. It needs to be a central theme. Particularly urgent after Russia's invasion of Ukraine is discussing regional and global security structures that can catch conflicts earlier and contain reliable prohibitions against aggression and war crimes. Fundamentally, there is an ethical and moralistic approach that needs to be expressed for a future of peace and development.