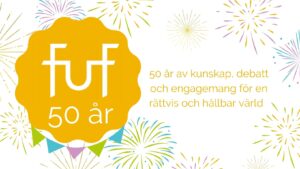 In 2022, it will be 50 years since FUF formally became an association with its very own board. Of course, we want to draw attention to this together with all of you readers, viewers, scrollers, participants and old and new buffoons.
We have done intervjuer with people who have been involved in FUF during the association's long life and who have now moved on to new exciting assignments. For example, you can read about Ulrika Modéer's early involvement in FUF and about when the current chair Anna Blücher interviewed a tree planter Carl Bildt.
To celebrate FUF 50 years We have also put together one anthology with young people's thoughts, ideas, hopes and concerns about a just and sustainable global future.
In addition, FUF board member Rolf Carlman has written about 50 years of knowledge, debate and commitment to a fair and sustainable world, a exposed more than The history of the FUF.
On October 28, FUF invited to a party to celebrate that since 1972 we have spread knowledge and created debate on global development issues. The evening offered an interview with FUF award winner Johan Rockström, live music, mingling, dance floor and, of course, discussion about the world's most important issues.