At the Summer Academy, young people get to discuss global development issues, the Global Goals and what the world and Sweden are doing to achieve the goals. We interviewed some participants at the Summer Academy 2017 to find out what they thought was the most fun and educational during the training.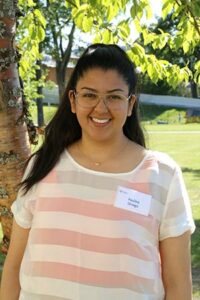 Hey Paulina! What has been the most fun at the Summer Academy?
All the learning and all the knowledge I have gained from this. Most things were new to me and before I came here I was a little worried that I did not know much, but when I came here I realized that I did not have to worry about it. I have learned from the ground up. I'm very happy about that!
Why did you apply?
I felt it was a challenge I wanted to take on. I am currently studying political science and I am thinking a lot about what I will be working on in the future. I have always been interested in politics and helping people but I have not really known exactly what I can work with in it. When I came here, I was told about all the possibilities that exist. The summer academy has helped me put into words what I want and can work with.
What do you take with you?
All new knowledge and also new friends. But also a better self-confidence. It felt great to be selected among so many applicants and to come and when I came here I thought "Do I belong here?" which I now feel I really do. Being here has given me so much. I have really developed as a person.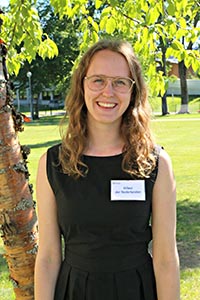 Hi Hillevi, what has been the most fun at the Summer Academy?
To meet people from different places, backgrounds and experiences. Some of the participants are more society-oriented, others nature-oriented, it has been rewarding to get the two perspectives on the issues. It has been fun with the lecturers but we have also gotten so much out of each other, what we have received from the lecturers we have had with us in discussions in the evenings and through it got even more out of the content in some way. In this way, we have built on each other's experiences and competencies. Both during the day but also outside the program where we have been able to share more of ourselves and discuss freely.
Why did you apply?
I have long been interested in global issues and brought it with me from home. I have been interested for a long time but wanted to find ways to get more involved. I wanted to be inspired to get even more involved and in more ways. When I saw info about SA it piqued my interest, I had heard about Agenda 2030, but did not immerse myself in it and when I read about SA it felt like it was okay not to know so much before without us learn us here.
What do you take with you?
That it is possible to get involved in so many different ways. It does not have to be a big project, but you can get involved in a specific thing or change things in your everyday life that give effect and in the long run make us achieve the global goals. It does not matter much ford you do without doing anything.
Hello there Andrea, what has been the most fun at the Summer Academy?
The most fun was meeting other young people who share the same thoughts and feelings about sustainability. Sometimes I can feel that I am a little alone with my thoughts on these issues because there are not so many others around me who think about this. Here I really got to feel that I was in a group of people who had the same thoughts as me. We could get angry in groups at what the world looks like!
Why did you apply?
Because I felt that now it must be enough! I have read a lot about injustices and natural disasters and I wanted concrete solutions for what I can do. I've been thinking that I really need to go to the other side of the world to help? I want to get involved at home, but how?
What do you take with you?
Very much, the whole course has been instructive. What I mainly take with me is that I can get involved where I am, locally in Sweden. I do not have to go to South America, for example, to make a difference. There are many things we can do here locally that are also important.