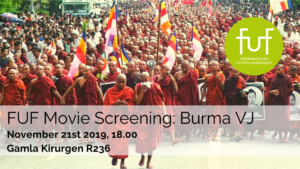 "Improve the lives of the people!
Our cause, our cause!
Reconciliation now!
Our cause, our cause! "
This chant was one of many that rang out in the streets of Yangon (formerly Rangoon) in Burma (now Myanmar). During the military dictatorship, media other than the one controlled by the state was strictly forbidden. A brave group of video journalists (or VJs) put their lives at risk when they take to the streets to document the reality of events transponding during one of the country's most important historical-, social-, and political events, the Saffron Revolution in 2008 . "Burma VJ" manages not only to demonstrate the significance of those events but also captures the emotions of the people; fear, hope, happiness, rage.
FUF Lund will be screening this documentary on 21st of November at 18.00. The screening will be at HusR, also known as Gamla Kirurgen, in Rum 236. We are looking forward to sharing this movie with you and are hoping to see you all there. We will be providing free (!) Popcorn and soft drinks. Bring your own container for drinks so we keep trash to a minimum.
Doors open at 17.30 and make sure you are on time as the doors to Gamla Kirurgen lock automatically at 18.00. If you nevertheless are late, just send us a message and we will open the doors for you.
After the event, you are welcome to discuss the movie and share your feelings, ideas and thoughts on the background and the aftermath of this event and the potential of activism.