November 14 is World Diabetes Day. A new report shows that what was previously a so-called welfare disease is no longer a problem only in high-income countries. Now the number of diabetics is increasing instead, mainly in low-income countries.
Today lives roughly 463 million people with diabetes. The disease has long been classified as a welfare disease because it is common in high-income countries.
But the International Diabetes Federation released one today new report which shows that it is no longer in high-income countries that the disease is increasing the most. On the contrary, it can be seen that the increase in diabetes cases in Sweden, for example, has leveled out, at the same time as the disease is becoming more common globally.
The number of victims is also increasing fastest in low-income countries. Lifestyle changes, including eating habits and exercise, as well as populations living longer and longer are two key causes. The report also contains a forecast of the expected future development. A total of 700 million people are expected to live with the disease by 2045. China, India, the US and Pakistan are still expected to have the most affected by 2045, but there is also a clear development trend: more and more low-income countries are in the group of countries where the disease is increasing the most. Already today, three out of four diabetics live in low- and middle-income countries.
At the same time, the dark figure is large. The report estimates that about 50 percent of diabetics in the world live with the disease without knowing it. Illness without diagnosis is often due to the fact that the individual's, as well as society's, cost of treatment and diagnosis is high, especially in low- and middle-income countries. For a disease such as diabetes, where early detection is central to avoiding both sequelae and mortality, access to health care becomes crucial.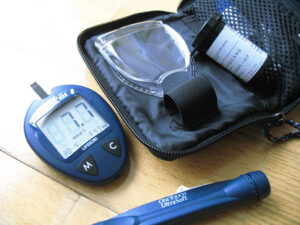 November 14 is World Diabetes Day. The day was introduced in 2003 to draw attention to diabetes and the global efforts to combat the disease. Every two years, the International Diabetes Federation releases an updated version of its report on the development of the disease worldwide. The future forecasts have become increasingly bleak with each completed study. From 1980 to 2014, the number of adults with diabetes, including both type 1 and type 2, increased from 108 million to 422 million. Even when the world's population growth is taken into account World Health Organization (WHO) that the number of victims has doubled.
Through the adoption of the global goals for sustainable development, work on international health issues has been summarized in goal number three: health and well-being. Maternal and child survival as well as infectious diseases have long been in focus in this area. Over time, however, it has become clearer that the work for health and well-being is no longer just about survival issues, but also about people's conditions for living long, healthy lives. In this context, diseases known as "welfare diseases" - and linked to lifestyle factors such as sedentary and eating habits - become central.
Type 1 and 2 diabetes
There are two main types of diabetes. Type 1 diabetes is a chronic disease that is most common in children, but it is also possible to get the disease later in life. However, about 90 percent of all people with diabetes have type 2. This variant of the disease, unlike type 1, can be prevented by, for example, changing their lifestyle.
Source: Diabetes Atlas 2019