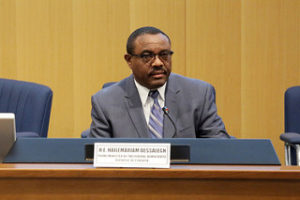 Ethiopia has declared a six-month state of emergency following the resignation of Prime Minister Hailemariam Desalegn on 15 February. The resignation came in an attempt to quell protests and unrest in the nation.
The main cause of concern is that one of the country's minority groups, Tigray, has the ruling political power in Ethiopia and planned to expand the capital Addis Ababa to Oromia, the minority group Oromo's territory. This would give Tigray greater control over Oromia. The plans were abandoned but the tension remained. The Amhara group has also taken part in the protests against the Tigray government's control. However, they have more power than the Oromo people in politics, as Amharic is the language used in official statements.
Hailemariam Desalegn has been the Prime Minister and leader of the ruling EPRDF (Ethiopian People's Revolutionary Democratic Front) since 2012 following the death of former leader Meles Zenawi. Hailemariam stated in his resignation speech that he will remain as Prime Minister until a successor is elected. Ethiopia last announced a state of emergency in October 2016 lasted for ten months. It is not clear who Desalegn's successor will be, but the new prime minister will be tasked with calming the concerns and handling that a large part of the population thinks the political system needs to be completely reformed.