Natural disasters, corruption, cultural clashes and poor communication. These are just some of the challenges that you may encounter when working with international development partners. Understanding these challenges is important for achieving the global goals. In the game Impact Strategy, you get to test your strategies yourself.
What would you do if you work with global development efforts and it is revealed that the organization you work for cannot handle corruption? How would you mobilize resources to save months of work from being destroyed in a natural disaster?
Dealing with unexpected events is part of everyday life in international development cooperation. In addition, it is necessary to work strategically to achieve your goals. This is what the company Gigint wanted to draw attention to when they created the game Impact Strategy. The development magazine met Mats Alentun, one of the creators behind the game.
With his own experience of working with development assistance and development issues, Mats Alentun believes that he constantly faces challenges at work. It was during his time at the authority SADEV, the Institute for the Evaluation of International Development Cooperation, that he felt that he wanted to give a better understanding of how the practical work with development assistance is done. During a summer vacation, the idea of ​​creating a game was hatched.
Mats Alentun believes that it can be difficult to work with development collaborations - and it takes a lot for it to be good. It can be about working inclusively and engaging other people and organizations that are affected by the issues you work with.
- It is really important to plan the efforts well together with your partners. It is also something that can take time and then it is important that it is allowed to do so and that it does not become too urgent, says Mats Alentun.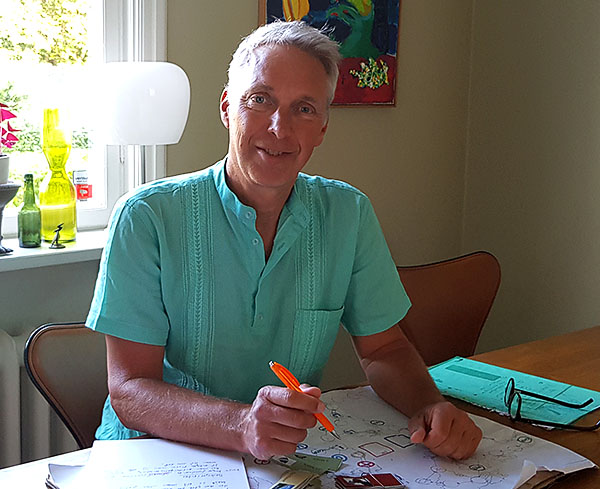 Impact Strategy started as a board game at home for family and friends. When more family members turned out to be passionate about the issues, they decided together to make the game digital. In this way, they can reach out with the questions to more people.
- But we do not feel finished. We do not yet know where it will take us, says Mats Alentun.
Mats Alentun says that he hopes to develop the game and do more in the future. It can be games more clearly aimed at children and young people, but also games that can be used for professional development within organizations. It would also be a dream to take the game online where players can meet each other. He also has a new game in progress, namely the Planet, which is about tackling climate challenges through global cooperation.
- We at Gigint are happy to collaborate and develop the game together with other people. More curious and committed people are welcome to come up with ideas and join the development of the game, says Mats Alentun.
Games can be important in spreading knowledge about development cooperation and the global goals. A good understanding of development cooperation is also necessary to be able to implement the global goals in Agenda 2030. A survey from Sifo from last year shows that almost half of Swedes are aware of the UN's global goals for sustainable development.
- With the help of games, you can reach target groups that you would not otherwise reach and arouse interest in the issues, Mats Alentun concludes.
About the game
In Impact Strategy, the player represents an international organization and the game is about working for one or more of the global goals. The player moves between different places on the globe and works strategically to strengthen their own organization, raise money and implement development efforts. Successful efforts give points and in the end it is decided which player has had the greatest impact. The game is free and can be downloaded in the App Store and Google Play.
Test for yourself!