"When I had to go to the toilet at school, I waited until everyone had left the classroom. Then I stood up and checked for spots you know, the situation was just so uncomfortable ".
It is one of the participants in a study about how menstruation affects girls' ability to participate in school education in Zimbabwe which tells. Together with her classmates, she describes how she does everything to hide what is so taboo around the world - menstruation.
In the shade under a tree in their schoolyard in a suburb of Zimbabwe's capital Harare, they talk about how they usually manage their period at school. The toilets are deficient - there is no toilet paper, you can not close the door, let alone lock it. Washing hands is not possible as neither water nor soap is available. To avoid going to the toilet during the school day, one of the girls tells what she usually does: "I usually use two bandages, but it still leaks on my skirt… I put them in stock; one bandage in a panty, another bandage in another panty… but the blood still leaks ".
Difficult to get menstrual protection
It has become increasingly difficult to obtain menstrual protection in Zimbabwe. During the country's economic crisis, prices have soared, and the price of menstrual products is no exception. In addition, society has now been completely shut down due to the spread of the coronavirus, making it even more difficult for many families to support themselves. Fewer and fewer can afford to buy menstrual pads. Women in rural areas are most affected as there was limited access and poorer economic opportunities to obtain menstrual protection even before the crisis. Instead, women use various improvised menstrual pads such as old pieces of cloth, newspaper, leaves or even dried cow dung.
The fact that Zimbabwe's Ministry of Finance - like other African countries such as Kenya, Rwanda and South Africa - last year announced that the VAT on menstrual products would be abolished was therefore an important step towards making menstrual protection more accessible in the country. Just like in Kenya, a budget was also set aside to be able to buy menstrual pads for schoolgirls around Zimbabwe. This sends a clear signal to the rest of society - everyone should have the opportunity to go to school, regardless of whether you bleed once a month or not.
Unfortunately, most studies testify to how girls cannot go to school during their period when they do not have access to menstrual protection. The participants in the study, which was conducted in schools in the suburbs of Harare, believe that there are few who can concentrate and participate actively in the lessons, even if they are in school during their period.
The participants each received a menstrual cup
By participating in the study, the participants each received a menstrual cup and for a period of five months they were told how they felt that the use of a menstrual cup as menstrual protection affected their ability to participate in school teaching. The menstrual cup is, despite its relatively high one-time cost, a cheap alternative to many other menstrual pads as it can be used for up to 10 years. It is also an environmentally friendly alternative, even compared to other reusable menstrual pads. It is enough to boil it in water for it to be sterilized, unlike, for example, reusable pads that require copious amounts of water for them to be clean. Something that is often in short supply in Zimbabwe, especially in rural areas.
The menstrual cup does not need to be emptied until every 8-12 hours and this is exactly what many of the participants in the study thought was best. They put in the cup in the morning and took it out in the afternoon when they got home from school. That way, they did not have to worry about not being able to use the school toilets during the day and above all - no one knew they were menstruating.
Trying to break the taboo around menstruation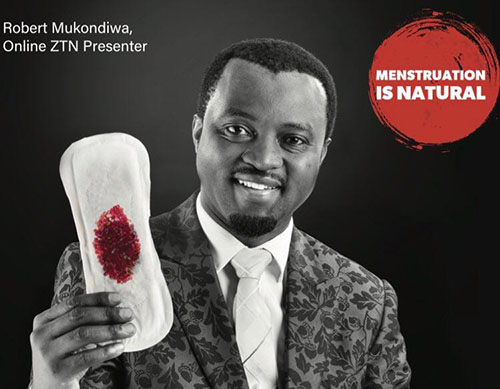 The stigma and taboo surrounding menstruation in Zimbabwe is widespread, but there are also those who are working to change these attitudes. Population Services International (PSI) is one of the organizations that, with support from Sweden, has trained young Zimbabwean women to lecture in schools around the country on menstrual hygiene and sexual knowledge.
PSI has also developed a campaign to break the taboo and silence around menstruation. The #LetTalkAboutIt campaign, which contains images of Zimbabwean women and men holding bloody bandages, was set up in central Harare and caused a great stir. Why would you need to talk about menstruation? The images violated cultural norms, many said, but PSI continued to lead the debate on national television, radio and social media. They argued that one must talk about menstruation in order to break the stigma.
The girls in the schoolyard outside Harare repeatedly pointed out how important it is to change outdated beliefs linked to menstruation - such as that women should not be able to touch when they bleed because they are considered unclean. It takes time, but norms and culture change all the time, which one of the participants in the study highlighted when she explained: "If you cook when you are menstruating, men and boys in the house will get sick. But it's actually a lie, because I usually cook and I have not seen any effects from it ".