Water is essential for stopping hunger, maintaining good health and producing electricity and goods. But in 30 years, five billion people are expected to live in water shortages at least one month a year. How we handle water will be decisive for whether we will achieve the global goals in Agenda 2030, writes Viktor Sundman at the water institute SIWI.
Never before has there been so much talk about clean hands as now. In the wake of the corona crisis, we have been flooded with advice on how to wash with soap and warm water for at least 20 seconds as soon as we touch anything.
But the debate should also be about all the people who do not have the opportunity to follow that advice. Nearly three billion people can not wash your hands with soap and water at home. In low- and middle-income countries lack 35 percent of all hospitals soap and water for hand washing - both for patients and staff. 785 million people lack access to safe drinking water, and 700 million people are forced to meet their needs outdoors. More than half of the world's population live with water scarcity at least one month a year.
Clean water is central to good health
Suddenly it becomes clear that it is not possible to draw a line between the various goals in Agenda 2030. Goal 3 is about good health and goal 6 is about access to clean water. Hardly any single measure would have a greater impact on good health, such as giving everyone access to clean water and safe toilets.
Goal 6 is also about more than just water and sanitation. The starting point is that we cannot improve access to safe drinking water and safe sanitation if we do not start taking better care of the world's water resources. For example, an estimated 80 percent of all wastewater is dumped without treatment - and thus damages both ecosystems and humans.
Objective 6 also includes improved water quality, increased wastewater treatment and reuse, streamlined water use, integrated management of water resources and the protection and restoration of water-related ecosystems. But we are far from achieving the set goals, and without a proper pool of strength, we will fail miserably.
The challenges around water will increase
The water-related challenges will also increase, not least due to climate change. The year 2050 is expected five billion people forced to live with water shortages for at least one month a year. At the same time, demand for water is expected to rise, due to population growth and growing consumption. For agriculture and industry, which stands for 70 and 20 percent, respectively of global water use, the big question becomes how they can reduce their water consumption and still meet demand.
When we take a closer look, we see how water is the blue thread that connects the entire Agenda 2030. Whether it is about growing food, producing electricity and products, or preserving ecosystems and biodiversity, access to good quality water is a condition. Goal 6 will therefore be a key goal in Agenda 2030, and resolving the issue of water will be crucial in promoting sustainable development.
International decade for water
To draw attention to the fact that we are far from meeting goal 6, the UN has announced an international decade for water 2018-2028. The laudable purpose is to encourage countries to increase their investments, but in order to succeed, countries must take a holistic perspective on water based on social, environmental and economic needs.
For Sweden, we often see ourselves as a country with good water resources and without reason to worry. However, the dry summers of recent years and low groundwater levels have shown that we too must act. We must get used to the fact that we are no longer a country where we can take clean water from the tap for granted, but that we must also invest in securing the water supply. Not least, this is about having stronger national coordination to counter fragmentation of our water management.
Sweden can also contribute internationally through development cooperation. In recent years, Sweden has increased aid in clean water and sanitation, which is a positive development. However, there are gaps here too. The assistance goes primarily to infrastructure investments such as treatment plants and systems for delivering water to schools and vulnerable areas. These are important measures, but more focus should be placed on how water is managed in a fair and long-term sustainable way.. More support is needed to improve the decision-making processes that determine who gets what water at what time. Many different societal actors need to be involved in that work, so that the infrastructure investments that are made actually work in the long run and do not become unusable after a few years when the water resources have been overused. Given climate change, this is particularly important. They place increased demands on long-term planning and democratic decision-making on common - and increasingly uncertain - water resources.
The business community are the biggest users
It is not just states that have the opportunity to influence. The business community, especially in agriculture and industry, are the largest water users and must take responsibility for how their activities affect water supply - both through emissions and consumption. This is important not only for the wider society, but also for the companies themselves. Namely, they depend on water for their production, and their workers depend on water to survive. It is in their own interest to responsibly use our common water resources in a long-term sustainable way.
Finally, we as individuals can also contribute. It's not just about taking shorter showers and turning off the water tap - it can certainly be good, but in this context it makes quite a little difference. Instead, it is about consuming sustainably and thinking about what you buy and from whom. For example, beef, avocado and almonds are water-intensive products, as are the production and dyeing of textiles. At present, there is a lack of watermarking of products to demonstrate sustainable water use, which makes it more difficult for consumers to make informed choices.
The first thing we do when we look for life on other planets is to focus on water, as it is a prerequisite for all life. It is high time that we also prioritize water on our own planet.
10 years until we will have ensured access to water and sanitation for everyone!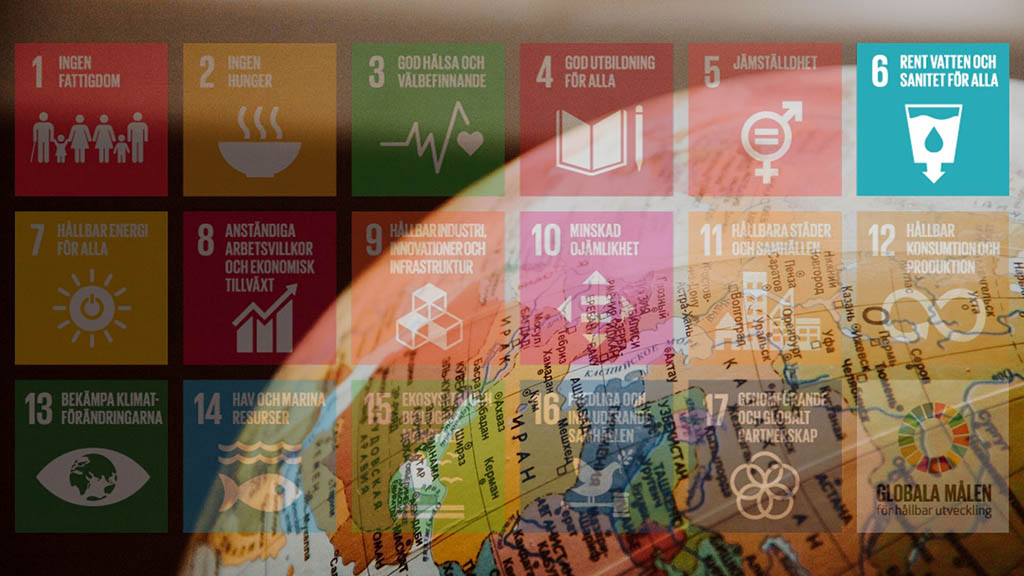 Today, a third of all people in the world live without access to basic sanitation, which causes disease and creates an unhealthy environment that particularly affects people living in poverty.
Water is a matter of course for life and lack of water can therefore be a cause of conflict, both within and between countries. But water does not necessarily have to be a source of conflict. Water resources can also act as a unifying force that strengthens cooperation and creates solutions for peace.
According to the global goals in Agenda 2030, clean water and sanitation must be ensured by 2030.