Several bodies report that maternity care as well as other bodies for sexual and reproductive health and rights (SRHR) have suffered in the crisis. Sweden has a long tradition of promoting the role of the midwife. The serious international situation requires further efforts to meet the global need for 900 more midwives, reports UNFPA.
300 women die every year due to childbirth and pregnancy complications. Another 000 million newborns die due to inadequate care during childbirth or during the beginning of life. Studies show that 2,5 percent of deaths could have been prevented if the victims had had access to a trained midwife. A report from the UN Population Fund UNFPA points to the need for an additional 1,1 million SRHR professionals worldwide and draws particular attention to the lack of qualified midwives.
In order to be able to deliver qualitative care, it is required that midwives are trained according to international standards and that the midwife provides contraception and works with health campaigns and disease prevention, according to a Page report. In order for care to reach its full potential, the role of midwife must be licensed, regulated and fully integrated into the health care system. UNFPA report shows that midwives with the right conditions and education can meet 90 percent of the need for SRHR services. Today, trained midwives make up only 10 percent of the workforce within SRHR.
Sweden works to promote the role of the midwife
The Swedish work to strengthen sexual and reproductive health is world-leading. For over 30 years, Sweden, through Sida, Sweden's development assistance authority, has supported the fight for women's right to qualitative reproductive health care in low- and middle-income countries. Establishing a functioning midwifery profession has been an important pillar for Swedish development assistance. Since 2005, Sweden has supported UNFPA by contributing to Swedish midwives through the Junior professional officer program (JPO). This has led to the UN and the World Health Organization continuing to recruit midwives to their respective organizations, which has given the midwife a significant role in pursuing SRHR issues globally. The program wishes to spread the Swedish midwifery model, where the midwife is professionally licensed and ultimately responsible for maternity care and SRHR work. In many countries, midwifery as a professional role has not previously existed. Malin Bogren, former JPO midwife, today an associate professor at the University of Gothenburg and chairman of the International Midwives' Association, talks about the program and how the midwife's role can be established.

- First and foremost, it is necessary to invest in long-term, functioning health systems where SRHR issues are given a central place. It also needs to be invested in the midwife being mentioned in that health sector plan, otherwise it is very difficult to build a completely new profession. It's a priority. Then it is possible to work in parallel with setting up a training program, but you must also ensure that there are strategies and guidelines for how the training is to be implemented. It needs to be done in parallel, to invest in education but at the same time make sure that you set up regulation and licensing around the profession. The three pillars are needed, education, organization and regulation, says Malin Bogren.
Malin highlights the importance of giving midwives the opportunity to be further educated. In many countries, midwifery education takes place at upper secondary or post-secondary level, which hampers opportunities for supplementary education as the education is not classified as academic.
- It will be a woman's trap, Malin Bogren explains. The trained midwives are young and thirsty for knowledge. They want to read on, but can not. My focus has been on strengthening the capacity of teachers. Nurses are then trained who will then train the midwives. They build the capacity of the teachers, but in parallel develop a "bridging course", which focuses on how to be able to let the midwives who want to further their education. There must be a career plan. Sweden has been involved and strengthened. In Bangladesh, for example, Swedish aid goes to work with educational issues and legitimize midwives so they can run their own academic environment around the midwifery profession.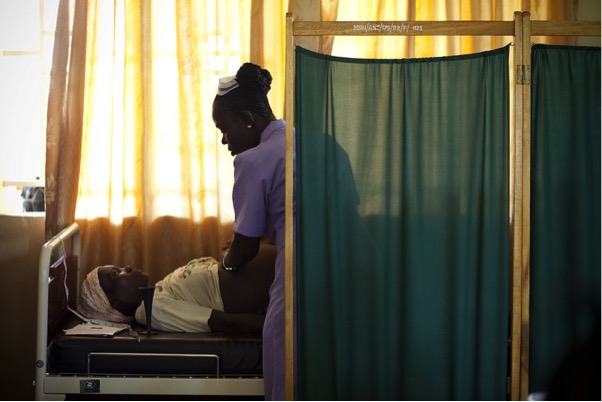 The consequences of the crisis
In many countries, especially in Southeast Asia, the role of midwife and nurse is combined. The pandemic has caused a widespread erosion of resources for sexual and reproductive health agencies globally. It has been particularly prominent in the clinics where the professional role of midwife does not have its own title, as nurses have to a greater extent been transferred to covid clinics. The extensive shortage of medical equipment caused by the pandemic has also become apparent for maternity care and SRHR clinics.
- It has meant incredible problems, says Malin Bogren. Many women refrain from visiting health care facilities due to the fear of becoming infected. Many healthcare facilities have become pandemic clinics instead. The preventive health care as contraceptives, abortion activities and screening for cervical cancer will be discontinued. This means that services such as birth control pills and family planning are not available. Treatment of people with the virus has taken focus and resources from maternity clinics, which risks undermining women's opportunities for help. Many give birth at home. Covid disease may not be welcomed at the clinic, but it may also be the case that you choose to give birth at home with untrained staff.
A March report shows that 12 million women have lost access to family planning due to pandemic disruptions, writes UNFPA. It is believed to have resulted in 1,4 million unwanted pregnancies, which is expected to have devastating consequences for the women affected. Restrictions on family planning are also believed to have increased the proportion of unsafe abortions, which can be fatal, as it can cause severe bleeding and infection. The number of working midwives has also decreased and is now down to 1,9 million, covering only a third of global needs. shows the UNFPA report.