Sweden, through the development agency Sida, is at the top when it comes to gender equality work in global health. It shows a new report launched today. Now we must continue to work to engage boys and men in global health, increase the proportion of female managers in global health actors and create jobs free from sexism, writes State Secretary Ulrika Modéer.
The image of when Isabella Lövin signed under the Swedish Climate Act, backed by me and our competent female colleagues at the Ministry for Foreign Affairs, spread like wildfire on social media. It is clear that Sweden is making an impression in the global debate. Few countries and actors have overlooked the fact that we have a feminist foreign policy. In a new report from the international initiative Global Health 50/50, we get a receipt that Sweden, through the authority Sida, is not unexpectedly at the top of the gender equality work. But more people need to change the policy of lasting change globally.
One area where Sweden has great international influence is global health — not least when it comes to sexual and reproductive health and rights (SRHR). Social norms limit women's access to opportunities, resources and power, resulting in discriminatory practices that adversely affect women's health and lives. Women in many low-income countries still lack access to basic health care services such as contraception, safe and legal abortions, and maternity care.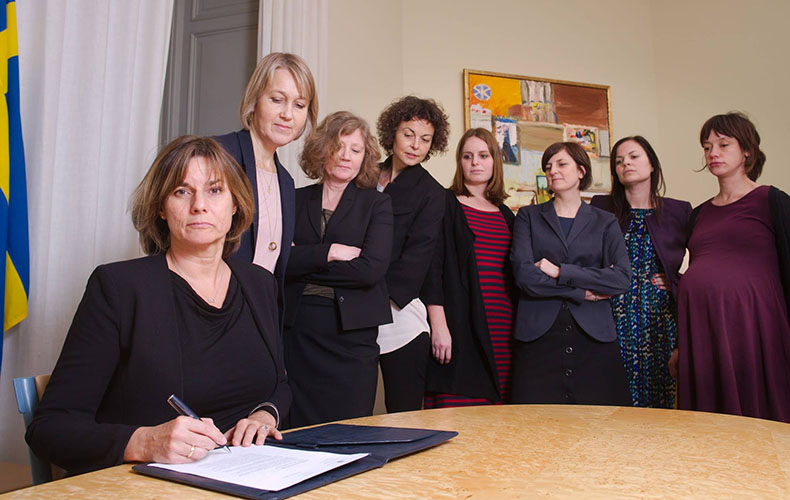 The Minister for International Development Cooperation and Climate, Isabella Lövin, signs the Swedish Climate Act - backed by her female colleagues. Many interpreted the image as a parody of Donald Trump's male-dominated administration.
We need to engage boys and men
At the same time, analyzes of the global disease burden show that men often have higher mortality and morbidity, despite their social privileges. Macho cultures can manifest themselves in a higher risk propensity which, among other things, contributes to increased consumption of alcohol and tobacco. The propensity to take risks also results in men being exposed to violence and traffic accidents to a greater extent. All in all, this increases the risk of men dying prematurely. Here, too, Sweden is at the forefront: we were one of the first countries to emphasize the importance of engaging boys and men - both to change harmful ideals of masculinity and to ensure that initiatives such as testing programs for HIV also reach men.
Few global health organizations today work from a broader perspective on gender equality, where gender is understood as a determining factor for men's, women's and transgender people's health. Here, Sweden - both through the Ministry of Foreign Affairs and through Sida - has great opportunities to influence the actors who develop global norms and guidelines for global health as well as the large implementing organizations.
It is gratifying to see that Sida ranks in the top ten list among the organizations that do the best gender equality work in global health. A number of UN organizations such as UNAIDS, UNICEF and UN Women and other multilateral health organizations such as the Global Fund against HIV, Malaria and Tuberculosis and the Gavi vaccine alliance are also doing well and are cited as examples. All belong to the group of organizations in which Sweden has conducted active board work.
It does not end there. The government has recently commissioned Sida to further strengthen its gender equality work by developing a basis for a new development assistance strategy for global gender equality, which will cover SEK XNUMX billion over five years.
There is no transparency about the work with gender equality
But a major challenge has been that there is a lack of transparency of how different actors work systematically with gender equality - both as a workplace issue and as an issue for strategy, programs and follow-up.
That is why, together with, among others, Helen Clark, former head of the UN Development Program and Jan Beagle, current head of the UN administration, I have been part of an advisory group for Global Health 50/50. They produce an annual report to answer the question: how equal are the world's 140 most influential global health actors? The report examines two dimensions, gender equality in programs and policy, and gender equality as a workplace issue.
The report shows that there is still a lot to do - but there are also glimmers of light.
- 40 percent of the organizations still see gender equality in global health as a women's issue, and thus miss both the analysis of power and how gender affects men, and thus also the disease burden.
- Just over half (55 percent) of all organizations have special commitments to work to increase gender equality in the workplace. 43 percent have specific goals for their work.
- Among the top managers, less than a third are women and among the chairman of the board, the figure is only 20 percent.
- Among the high-ranking managers within the organizations, only a quarter have equal representation of women and men. For the boards as a whole, the figure is a modest 20 percent.
Global Health 50/50 is a policy analysis. We are well aware of the challenges of ensuring that policies and strategies are implemented. It also requires in-depth work with organizational culture and effective governance, as well as active board members who hold organizations accountable for adopting and delivering on their gender equality commitments. The positive thing is that with this report we have facts that can be disseminated and used to hold organizations accountable and for continued work.
Far left to workplaces free from sexism
As recent reports in connection with #metoo show, we are unfortunately still far from the goal of guaranteeing that organizations operating within the framework of international cooperation are workplaces free from sexism, sexual harassment and abuse. Power will be required in the future. Through this year's action plan for feminist foreign policy, the Foreign Service continues its internal work to prevent, investigate and remedy sexual harassment.
We will demand that guidelines for the work with sexual harassment be drawn up and reviewed within the UN and by other actors that we have the opportunity to influence through dialogue and board work, and that these organizations and actors work to prevent, investigate and remedy sexual harassment. Zero tolerance applies here.
Global Health 50/50 is an annual report launched on International Women's Day. In next year's edition, it should be clear to all actors that the Swedish feminist government expects systematic gender equality work that will permeate both organizations' programs and their own organization. It should have a clear impact on who has access to resources, rights and representation within Global Health.
Ulrika Modéer