Covid-19 has paralyzed the world and healthcare professionals in all countries are tearing the trail of infection. At the same time, the WHO reports that there is a shortage of 5,9 million nurses, mainly in low- and middle-income countries. The difference in access to higher education is becoming clearer than ever, writes Malin Cronqvist at the Help to Help foundation.
There are just over 92 Swedes per professional nurse in Sweden, distributed among our population of about 10 million.
In Tanzania, there are just over 1 people per nurse. The World Health Organization, WHO, recommends a nurse of 374 people.
In Sweden, most people have the privilege of having running water, the opportunity to wash their hands and use rubbing alcohol.
In Tanzania, only 57 percent of the population has access to clean water and only 30 percent of the population has access to basic sanitation.
The statistics speak for themselves, the challenges are enormous and the situation unsustainable. Let us shift the focus to possible measures and solutions, here and now. One solution could be for countries with more healthcare staff to send staff to the countries with fewer. We have relied on this, not so sustainable, method in previous pandemics. Today, however, it is not possible to send healthcare staff from one country to another because all healthcare staff are needed at home.
So what can we do?
We must look up and think sustainably and long-term.
The 17 global goals in Agenda 2030 clearly highlights the importance of higher education to achieve sustainable development. Goal number 4 highlights that good quality education for all is one of the most important foundations for prosperity, health and gender equality. According to UNESCO, the number of registered for post-secondary education globally increased from 19 percent in 2000 to 38 percent in 2017 *, which is positive and a step in the right direction. However, the same figure for sub-Saharan Africa was only 9,3 percent in 2017, and the figure is even lower in some areas. For example, only 4 percent were admitted to post-secondary education in Tanzania in 2015. In Sweden, the corresponding figure was 62 percent.
Without equal access to post-secondary education, we cannot reduce the shortage of nurses that the WHO testifies to, but a solution can be found in the global goals' sub-goal 4.B on scholarships for higher education.
For 10 years, Help to Help has run a scholarship program in Tanzania, and later also Uganda, to give more young people access to higher education. So far, 120 students have graduated and our latest impact survey shows that 59 percent of them finance at least one sibling's schooling and that the former scholarship recipients support an average of 3,68 family members each after graduation. Investing in scholarships for higher education in line with Objective 4.B undeniably creates positive spill-over effects in the form of increased prosperity and reduced poverty.
Increased access to higher education in line with goal 4.3 also means that more people are trained as doctors, nurses and medical technicians, which increases global preparedness the next time a pandemic paralyzes humanity. Of course, short-term and humanitarian aid is important and needed in a crisis. But a long-term solution with more trained healthcare professionals in all countries is the only way to handle such situations in the future.
We need to put in a second gear now. If we invest in higher education today, we can give healthcare professionals around the world a reasonable chance, both today and tomorrow.
* The UN uses the measurement value Gross enrollment ratio which measures the number of students enrolled per level of education. For post-secondary education, which is referred to in the text, an age range of five years after completing upper secondary education or equivalent is used.
10 years left to good education for all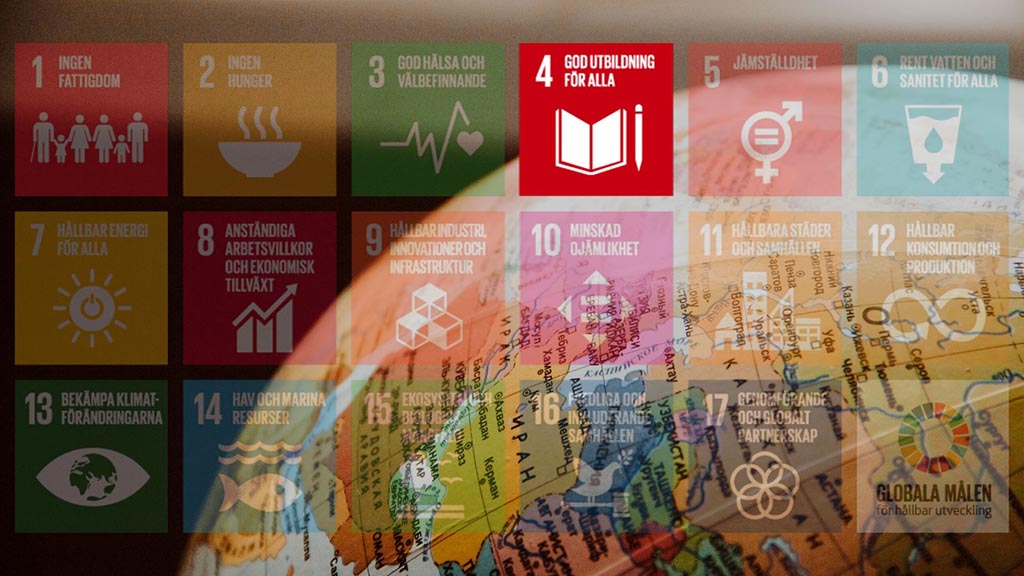 Education, especially good education, is a human right. Despite this, there are about 774 million people who cannot read or write, the majority are women. The global goals for sustainable development must change that - no one should be left out.
According to the global goals in Agenda 2030, good education for all must be ensured by the year 2030.