People with disabilities are almost never included in the work for a better climate, nor do they receive information about climate change in available formats. Without information, it is difficult to be involved and change. It writes MyRight, the Swedish disability movement's organization for international development cooperation.
Despite the fact that people with disabilities are particularly hard hit by climate change, there is almost always a lack of a functional law perspective on climate issues. The impact of climate change on humans and the environment is significant. And it is those who are already living in poverty and vulnerability who are particularly hard hit - both short-term and long-term. People with disabilities are overrepresented in terms of poverty while often being systematically discriminated against. Their vulnerability to increased climate change is therefore particularly serious.
Forgotten in crisis preparedness
In crises and disasters, people with disabilities are often the last to receive information and the last to receive help.
When climate-related disasters such as floods, cyclones, fires or heat waves occur, people with disabilities are almost never included in the crisis plans. When, for example, the alarm sound over an area does not hear deaf or hearing impaired people, and people with intellectual disabilities can not always understand what is happening and how they can take protection. For people with visual impairments and those who are blind, it is often almost impossible to get to safety yourself. Information provided through radio is not available to many groups, and information provided in writing, such as posters, brochures, or movies, is inaccessible to others. Information is rarely given in sign language or in audio-interpreted format.
In a disaster situation, it is often difficult for everyone to get food, water, care and information. For people with disabilities, it is even more challenging. It can also be difficult to get a wheelchair, aids and vital medicines during a quick evacuation. For many, it is simply not possible to escape to safety, but they are forced to remain in danger.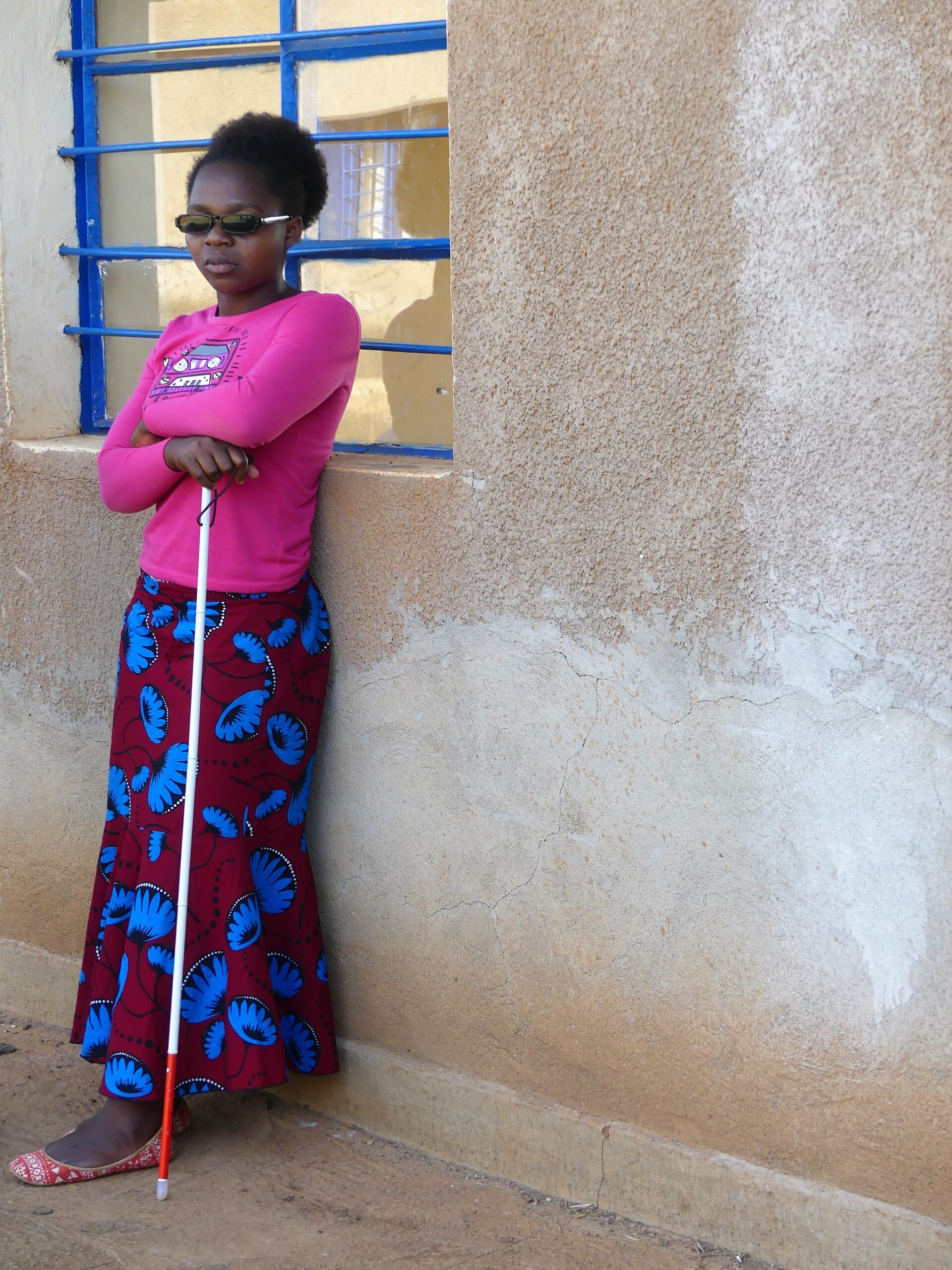 When crisis and disaster plans completely omit people with disabilities, they are left without support and without rescue efforts. The systematic discrimination that people with disabilities face in many places, together with widespread poverty, means that they are often left to their own devices and totally dependent on the environment.
Studies also show that people with disabilities are at greater risk than others of being exposed to violence in disasters - and women and girls with disabilities are particularly vulnerable.
Prevented from participating in the work for a better environment
Due to lack of accessibility, the world is losing the commitment and contributions of millions of people. Information about the climate crisis, its consequences and how we as individuals can contribute is rarely provided for all available formats. Without information, it is difficult to be involved and change.
Climate work follows the same discriminatory structures as other areas and people with disabilities are made invisible, forgotten and de-prioritized. An example that many in Sweden can relate to are recycling stations, which are almost never adapted so that people who are blind or use a wheelchair can use them.
Excluded from decision-making and influence processes
Although people with disabilities are disproportionately affected by climate change, they are often excluded from decision-making processes at all levels.
Strategies, policies and decisions on climate almost always lack a disability law perspective, and organizations of people with disabilities are almost never invited to negotiations or talks on climate issues. If they are invited, often lack of accessibility prevents them from fully participating in the conversations and making their voices heard. We got an example of this during the UN climate summit COP26 in November 2021 when the Israeli Minister of Energy Karine Elharrar could not participate because it was not possible to enter the premises with a wheelchair.
It is possible to change
People with disabilities and their organizations are needed in the work for more resilient and sustainable societies.
There is a need for information on the climate issue and on how we as individuals can live more environmentally friendly in formats that are accessible to all - for example in sign language, interpreted visually and easily read.
Global sustainability actors need to work with organizations of people with disabilities to improve strategies, policies, plans, decisions and evaluations. The work with data collection must also be improved so that we can make visible how certain groups are particularly vulnerable and affected to a greater extent.
There are one billion people with disabilities in the world. The work for climate and the environment could go further if people with disabilities were better included and could participate actively. We also want to take our responsibility. Our efforts also make a difference.
About people with disabilities in the world
• 15 percent of the world's population lives with a disability.
• 80 percent of all people with disabilities live in poverty.
• 1 in 5 of the world's poorest have a disability.
• In low-income countries, more than one in five women with disabilities live.
• 1 in 20 children in the world live with a disability.
• 1 in 3 children with disabilities do not go to school. In many groups, up to 9 out of 10 children and young people do not have the opportunity for education.
• In many countries, more than half of people with disabilities do not have access to care.
• Young women and girls, suffer from gender-based violence ten times more often than young women and girls without disabilities.
• In many countries, more than half of the households where a person with a disability lives do not have access to electricity.
• More than half of all people with disabilities live in countries affected by conflicts and natural disasters.
• 128 out of 190 countries in the world have through their constitutions or laws restrictions that can restrict the voting rights of people with disabilities.