Every year, the International Center for Local Democracy (ICLD) organizes a leadership program for women in local political positions of power in low- and middle-income countries. The aim is to strengthen women in their leadership role to contribute to the development of local democracy. Development magazine has interviewed Anne Scheffer Leander, responsible for the program, about how the promotion of local democracy actually works in practice.
In about an hour, Anne Scheffer Leander will fly home to Sweden. Behind her are two weeks of intensive field work in Rwanda and Tanzania. First, the women's leadership program was completed in Kigali. She has since visited two Tanzanian municipalities.
- Right now I am fulfilled and quite tired from all the impressions, conversations and challenges that the participants have in their municipalities, but also strengthened that what we are working with contributes to change, she begins.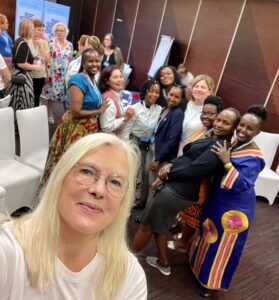 The leadership program is organized by the International Center for Local Democracy (ICLD), a Swedish non-profit organization that promotes local democratic development. Together with Sweden's Municipalities and Regions (SKR), ICLD carries out one leadership program for female local politicians the world over, which Anne Scheffer Leander is responsible for. The program runs over one year. It includes workshops, seminars and a two-week study visit to Sweden where the participants get to meet their Swedish counterparts. The goal is for female politicians at the local level to get better knowledge and tools to lead their communities and thus contribute to the development of local democracy.
But how does the promotion of local democracy actually work in practice?
- When you think of local democracy, you might only think of politicians, says Anne Scheffer Leander and continues:
- But local democracy is what our residents meet - do we get an equal and fair service in everyday life in our municipalities? Do we have the opportunity to participate in how that service is designed, and is it transparent how the decisions are made? Do we know who is responsible for those decisions?
What then are the differences between local democracy in, for example, the city of Stockholm and a municipality in northern Tanzania?
It is a difficult question, she thinks. The resources are obviously different, but so are the views on equality and corruption. It is deeply entrenched in the societal structures, which makes it more difficult to navigate, Anne Scheffer Leander feels.
- It fills me both with despair and an incredible feeling of the necessary power to work for a more equal society, she says.
- And that is precisely why we work to strengthen these women in their leadership and contribute to the development of local democracy.
Female political leaders from Rwanda and Ukraine
Norms in general make a big difference for local democracy in different parts of the world. Anne Scheffer Leander's experience is above all that the patriarchal system is narrower in Tanzania and Rwanda compared to the Swedish discourse.
- Even though Rwanda has one of the world's best participation of women in political institutions at the national level, they also have a very patriarchal system, where men basically do not participate in housework and violence against women in the home is common, she says.
Last year, the Rwandan woman participated Lorette Mushimiyimana in the leadership program. She has started the concept Women Leader Nursery Clubs, which is now in 47 schools in her district. Through the school clubs, girls and young women can develop their leadership skills, to be equipped for a future leadership role.
- They came to visit us one day during the training, says Anne Scheffer Leander and continues with a big smile:
- Seven of the girls stood on one side and eight on the other side and they debated against each other about equality and women's empowerment. It was horrible to see.
Although three female local politicians from Ukraine participated in the program. For them, life has changed drastically. But they are still female leaders, to the highest degree.
- In the middle of a burning war, they are fighting to take care of all the people who are on the run and integrate them into their society, says Anne Scheffer Leander.
Believing in the power of conversation
Several of the countries in which ICLD works are not full-scale democracies, says Anne Scheffer Leander. Amongst Rwanda, where the women's leadership program just ended.
- Then it is even more important that we continue to work with local democracy. What else should we do, should we give up?, she asks.
In addition, ICLD only works with local politicians who really believe in the core democratic values, she believes.
But the question remains – does democracy promotion really work? Because even if women usurp decision-making positions both in politics and in business, it is no guarantee of actual influence, points out Anne Scheffer Leander.
- It's one thing to be there, but you also have to be able to manage your position and take your place and make your voice heard, she says.
In order to evaluate the effect of the leadership program, ICLD follows up the participants and their municipalities continuously during the course of the program, and also after one year. Long-term norm changes, on the other hand, are more difficult to measure, but Anne Scheffer Leander believes in the power of conversation.
- You just have to believe that all the conversations that we all take part in develop us and give us more knowledge - every little conversation that you have.
Of course there are backward-looking people everywhere, she points out, but for her there is one thing that always outweighs.
- All the times I see something happening in the room. Then I really can't say that I doubt whether it's worth it, she concludes.