In Tunisia, almost half of all women are exposed to violence. Until recently, violence was not illegal, but after a fierce struggle, the country has now banned gender-based violence. Tunisia's work to establish national support for the law can stand as an example for other countries, writes Patricia Grundberg at the UN Population Fund UNFPA.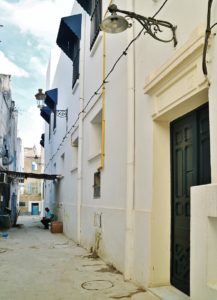 On a narrow street in Tunisia's lively medina - the capital's old town center - a blue door holds the entrance to a sanctuary of refuge and rehabilitation for women exposed to violence. The Beity Shelter offers temporary accommodation to particularly vulnerable women such as single mothers, the poor and migrants from all parts of Tunisia.
At the entrance, I am met by Sana Ben Achour, who is both the founder and president of Beity. She is a well-known Tunisian academic, lawyer and feminist with a specialization in public law.
Achour says that the center is the first of its kind in Tunisia. It opened in 2013 and was then relocated to the medina at the end of 2016. According to Achour, the medina has a mixed population and is a place where women feel accepted and supported by the local community. And the women who live at Beity need just that - rehabilitation and support.
Women get help
Beity has 15 rooms and offers temporary accommodation for 30 women and their children. Many more women also receive support from Beity through shorter visits during the day. The support includes legal advice, health examinations, psychological support and financial advice as well as information about the services available in the region. The center also helps women build independence by raising awareness of lifestyle, sexual and reproductive health, economic and social rights and job search.
UNFPA, the United Nations Population Fund, is the main financial contributor to Beity and also accounts for a large part of the technical support in designing and implementing activities and services. This support is provided as part of a much larger program against gender-based violence in Tunisia, in which UNFPA supports another 6 centers in other regions, 3 of which offer accommodation.
Few report abuse
Still, the need for temporary housing like Beity is much greater than what is available in Tunisia. According to a 2010 survey by the Family and Population Board (ONFP), 48 percent of Tunisian women have experienced some form of physical or sexual violence during their lifetime. An alarmingly high figure and well above the global average of one in three women. 73 percent of these women did not know where to turn when exposed to violence. Only a few women talk about violence, report it and seek support.
Until recently, there was no law banning gender-based violence in Tunisia. After hard work by UNFPA, together with the Ministry of Women, Families and Children, and various civil society actors, a law banning violence against women was adopted in July 2017. The law entered into force in February 2018. Since then, UNFPA has worked actively to increase knowledge about the law among the public.
At UNFPA's country office in Tunisia, I meet program analyst Walid Benamara who has been one of the driving forces in the work on the law at UNFPA. "We are very pleased with the law because it is the first to define violence against women as a criminal act. The definition contains a wide range of violence, from sexual and physical violence to economic and psychological violence, "says Benamara.
Willingness to change
Although the first verdict has not yet been handed down since the law came into force, progress has been made. A larger proportion of women are now reporting their cases to the authorities and a number of cases are under investigation.
Sunday was the international day against violence against women and the issue was raised in many forums around the world. But only visible is not enough, action is also needed. It is unacceptable that today, for example, only 78 countries explicitly criminalize rape within marriage.
More countries must follow Tunisia's example and ban gender-based violence in national law. Here, the international community can help put pressure on governments. It is a first step in the right direction and provides a framework for police, courts and other authorities to operate within. The next step is to ensure that the right efforts are made on implementation and to work actively to increase gender equality and change harmful social norms.
If more countries take full responsibility for stopping gender-based violence, we hope that fewer and fewer women will be forced to flee to shelters - like Beity.