In March this year, Samia Suluhu Hassan took office as President of Tanzania. A hope for democracy where freedom of expression would once again be given space was born, but an authoritarian government seems to be advancing - and the expectations of the population are being shattered.
- This is not the time to point the finger at each other but instead hold hands and build the new Tanzania that President Magufuli aspired to after.
This was stated by Samia Suluhu Hassan at the beginning of her presidency when opposition parties made allegations about the reasons for the death of former President John Magufuli. Under Tanzania's leadership of Magufuli, also known as the Bulldozer for his fierce policies and human rights abuses, the country entered an era of more authoritarian rule in which freedom of speech was severely restricted.
According to Amnesty International Magufuli strongly opposed, among other things, the rights of journalists and the possibility for opposition groups to sue. A country that was previously known for a positive democratic development completely reversed under Magufuli's almost dictatorial leadership.
Earlier this year, President Magufuli passed away. He was then replaced by Vice President Samia Suluhu Hassan - who became the country's first female president. Future hopes arose among the population for a less oppressive regime and a return to a more liberal regime. The hope arose in connection with Hassan releasing political prisoners, removing some of the restrictions on the media and entering into discussions with opposition groups in the country. According to an article from The Conversation Hassan promised an era of greater freedom of expression - something the former president had prevented.
Freedom of expression is often described as the cornerstone of democracy as it is considered one of the most important rights in a functioning democracy. It is a right that, to varying degrees, is always implemented in democracies. But since Magufuli became president in 2015, freedom of expression in Tanzania has been restricted. He came to rule the country with an iron fist and human rights were more and more oppressed during his time in power. According to a report from Sveriges Radio it is clear that Hassan will probably not bring about any major changes but rather pursue the policies pursued by Magufuli.
Seven months with Hassan
Hassan's promises of a more liberal society began well - but now, just over seven months into her rule, her political position has begun to become increasingly unclear. That she will follow in Magufuli's footsteps is now predicted by separate experts' analysis of her politik. In August, restrictions were imposed on the Uhuru newspaper, which is owned by Chama cha Mapinduzi (CCM) - the country's ruling party. According to an article from to Reuters the restrictions were considered necessary by the government when they judged that the newspaper Uhuru spread false rumors regarding the next presidential election in 2025. The newspaper Uhuru claimed according to the government that Hassan would not run in the election. The restrictions against the newspaper were the first restriction that took place under the leadership of Hassan.
At the beginning of September, restrictions arose against another newspaper - despite Hassan's statements to strengthen freedom of expression. The basis for this restriction was again arguments about spreading false rumors. The rumors were, among other things, that an armed man was linked to the CCM party.
Within a month, therefore, two newspapers were subjected to restrictions on their freedom of expression, which violates the promise made by President Hassan when she became president - to maintain a media freedom that the previous president had prevented.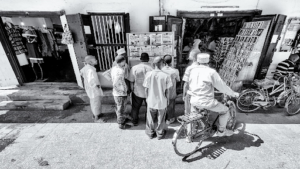 The leader of the current regime's opposition party has continued to be arrested, which means that experts from, among others, Nordic Africa Institute questions Hassan's path towards a more democratic country. Human rights organizations believe that the arrest of the leader of the opposition party shows a clear rift in the country's democratic development. Hassan is alleged in an article from ISS be able to pursue the harsh approach used by the former president - to strengthen his own position within the party.
Hassan's promises at the beginning of her presidency are now believed by experts to have been a form of rhetoric to gain the support of the people when she came to power. According to experts, this rhetoric is something she did not manage to maintain for a long time, which makes it clear that the lack of, among other things, freedom of expression causes the already unstable democratic foundation to collapse more and more. Instead, experts now assume that an authoritarian form of government will continue for Hassan to gain respect within his own party before the next election.