Cooking in Kenya takes up a lot of time. Most people use charcoal, which is also costly and dangerous to health. But a new project with environmentally friendly stoves in Kenya could be the solution. The savings can pay the school fee for a child for a whole year.
- It is absolutely fantastic, says Rachel Mwamghuda in Voi, Kenya.
Jiko is Swahili and means stove. It is a small grill that usually stands on the ground and is fired with charcoal. Almost everyone in Kenya - and in many other countries in Africa - cooks their food that way. The disadvantages are several. Not least, it is dangerous to inhale the smoke from the stoves. The production of charcoal destroys trees and destroys the soil. In some parts of Kenya, the production of charcoal has been banned. And that has caused the price to go up. A normal household in Kenya today can spend 20 percent of its income on charcoal alone.
But today there are alternatives. A small-scale project in the Kenyan city of Voi shows that there is much to be gained by using a relatively new and more environmentally friendly jiko. It is manufactured in China and sold through a company in Nairobi. The project means that the stoves are purchased with the help of money raised in Sweden. They are then sold in installments to households. The payment is made through the savings on charcoal - and in just about 4 months the stove is paid for. And the same money can be used to buy more stoves. A normal household in Kenya can save around SEK 100 a month on the environmentally friendly stoves. The money is enough to pay the school fee for a child for a whole year.
- The stoves are absolutely fantastic, says Rachel Mwamghuda in Voi. The charcoal lasts at least twice as long as in the traditional stove. And I experience no smoke or radiant heat from the stove.
Rachel is one of the women who sells the stoves in installments. And she herself gets a small commission on every stove she sells. Rachel is a single mother with two children. She lives on small margins with income from temporary jobs such as washing for others. So the savings she makes on charcoal and the small income she gets by selling to others is important.
The interest in the stoves is great. But the difficulty for Rachel is finding customers, above all the project is aimed at single mothers who live in a very vulnerable situation. But of course, anyone who wants to buy a jiko can get it from Rachel.
- But I have to be careful, she says. I can only sell to those I trust so that the project gets its money back.
Although a stove does not cost more than SEK 400 and lasts significantly longer than a traditional stove, not everyone thinks they can afford to buy one. Even if it pays off in less than half a year. If it is difficult to get food together for the day, it can be difficult to see so far into the future. Therefore, it also happens that the stoves are sometimes given away completely free of charge.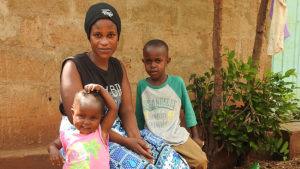 Fact box: The Jiko project
The project is run privately by Britt and Jan-Åke Thorell. They have previously lived in Kenya and founded the Voi project for orphans.
To date, more than 70 stoves have been sold in Voi and in a couple of other places.
The purchases have so far been financed by, among other things, a photo exhibition that Jan-Åke had at Art Ex Gallery in Ulricehamn, and a collection on Facebook. Now the sale of stoves will generate money for the purchase of new sprouts.
The company Ecozoom in Nairobi imports the stoves from China. The price for a stove is about SEK 400. The saving in money for a normal-sized family is SEK 100 per month.
The stove consumes up to 70 percent less charcoal than a traditional stove. The flue gases are reduced by 60 percent.