With tough home conditions, music becomes a safe zone and an opportunity to develop. At the organization Wale Wale Kenya, young people from the slums gather to dance together. Project leader Vennah Atieno talks about how creativity makes young people grow, and about society's sometimes skeptical view of dance.
Kibera in Kenya is Africa's largest urban slum with a million inhabitants. The area is teeming with activity, but many also live with poverty and tough family relationships. Vennah Atieno grew up in Kibera, has danced since childhood and is now involved in running a youth activity with creative activities and school help. We meet at Wale Wale Kenya's center in Kibera for a conversation about dance and the importance of being creative.
- My first memory of dance is when I as a 7-year-old saw a performance in the church. I loved it and started dancing and playing theater myself. My mother liked that I was involved in the church, that it was just dancing, she did not care so much. Dance became a way of defining myself, of becoming good at something no one could take away from me.
Atieno says that views on dance and music are divided in Kenya. Although music is everywhere, from music videos on the bus to street music, there are strong opinions about what is okay and what is immoral.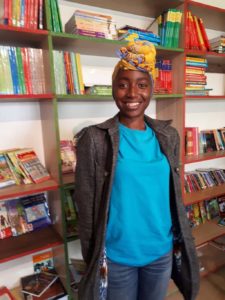 - There is a picture that dance is a waste of time, something loose that you can only engage in if you absolutely have nothing better for yourself. Some people think dancing is immoral and sinful. Especially dancing with a lot of hip movements and music about attraction, it is considered dirty. But this is not the kind of dance we teach at Wale, we just want to create joy and make people develop.
Many of the members come from insecure areas in Kibera and with violence and abuse in the home. The center will be a sanctuary, a sheltered place to socialize and relax. The dance is also an opportunity to be creative and learn something new.
- In dance, you have to be aware of yourself and at the same time see your part in the larger context, in the whole choreography. We use our creativity to inspire each other. Children are used from school and home to being judged on their performance and punished when they make mistakes, says Atieno.
In dance there is no right and wrong. Developing in dance creates self-confidence and an identity, says Atieno. She continues to tell about the reaction from parents: - The parents like that we have a library where the young people can get help with homework, and I think it makes it easier to accept that we also dance. And if they are here and dancing, the parents know where they keep house in the evenings.
This is how the interview ends and Vennah Atieno lets the first young people in for the evening's dance lesson. Someone sits directly at the drums and some eagerly discuss the dance steps in the new choreography. Creativity flows in the room and the young people look safe and happy. They look like young people growing up and learning something for life.