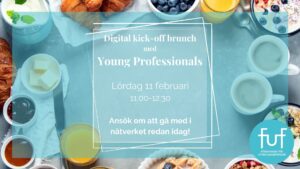 It's finally time to kick off the semester for our Young Professionals Network!
Are you a recent graduate and working with global sustainable development or international cooperation? Do you want to get to know others in the same sector, exchange ideas and experiences, discuss common challenges or current development issues? Join FUF's professional network Young Professionals and come to the kick-off on February 11!
When: Saturday 11 February, at 11:00-12:30.
Where: Digital via Zoom
To become a member of the network you need:
Items member in FUF.
Send an expression of interest containing a short presentation and your CV to yp@fuf.se.
Read more about the network and how to apply HERE!
Once you've done that, register for the kick-off HERE!
For questions about the network or the start-up, contact us coordinators at yp@fuf.se
Välkomna!
Amanda, Sofia and Samuel