In our globalized world, modern communication technology is playing an increasing role and is now an essential part of our daily lives. But how can it be used to achieve global equality together? How can the role of women be strengthened with the help of digital tools?
On the theme of digitalisation and gender equality, we invite you to an armchair talk Katja Sarajeva from the organization SPIDER. The conversation begins with a presentation which is then followed by a question and answer session on how information and communication technology can be used in practice to promote global gender equality.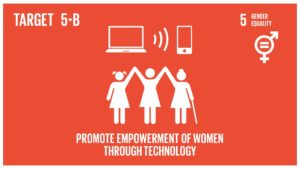 SPIDER is an independent center that, through practical work and applied research, promotes digitalisation for global development.
Coffee is offered from kl. 18:00. Warm welcome!
The armchair call is arranged by FUF's seminar group which consists of young non-profit committed members in the Stockholm area. The seminar is held in Swedish.